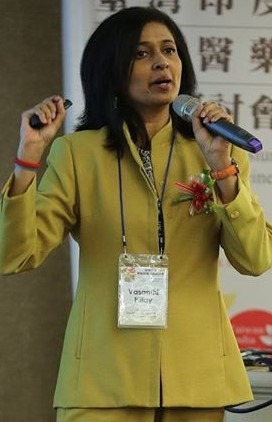 A warm welcome and thank you for visiting our page.
Ayurveda is an age-old traditional science and focusses on prevention of illness and promotion of health. Even though Ayurveda originated thousands of years ago, its holistic system is both contemporary and universal. It offers a comprehensive understanding of life by describing in a clear, logical manner the vital connection between an individual and the whole of nature – "as is the macrocosm so is the microcosm". Understanding this interconnectedness and living in harmony with nature is the key to wellness and prevention of disease. In short, Ayurveda is a comprehensive holistic system that empowers you as a person for your mind-body-emotion wellness.
We offer several Ayurveda and Yoga educational programs both in Singapore and in Asia promoting a holistic approach to wellbeing through our various workshops and certification programs . Our popular programs include Ayurvedic Detox, Ayurveda and Digestive Disorder, Healthy Ageing through Ayurveda and Yoga, Ayurveda and Holistic Nutrition, Lasting Beauty through Ayurveda, Total Mind Wellness through Ayurveda, Bonding with your child through Parent Child Yoga, Preventive Medicine through Ayurveda, Ayurveda and Restful Sleep, Self-Management of Stress and Weight Management.
If you would like to become a Certified Trainer in any of these fields we also offer Teacher Training Programs with certification.
Once again we thank you for your support as we continue to work towards our vision of holistic health and wellness for all.